***edited to add content***

I had a conversation with someone I work with that turned to how many and what kind of cars I've owned. I was surprised at the number, I hadn't realized it was as many as it has been.

These first two don't really count, as I didn't own them. But, as they were mine to use I am including them.

mid-70's Mercury Comet GT: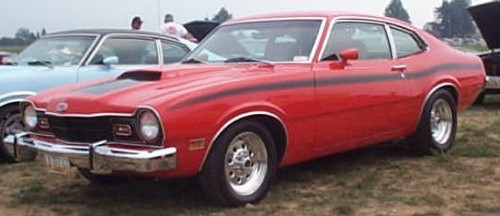 (only mine was green. it had the same hood scoop and side-stripe, part of the GT package.)

I got my driver's license in 1978. My dad had just retired from the Air Force and got a new job. He also bought a new car. Since he couldn't get his asking price for his old car, he wound up not selling it and it became mine to use. I had to buy my own gas and oil, dad paid the insurance. It had a 302 cubic inch V8 and a 3-speed manual transmission. It was fun to drive. I drove it for 2 years, until I graduated high school and left for college. The car stayed home and became my brother's. When he graduated high school (and joined the navy) the car went to my sister. I'm not sure how long she drove it - she went to a local college and lived at home, so I expect she drove it until it fell apart or was sold or something.

1972 Pontiac Catalina: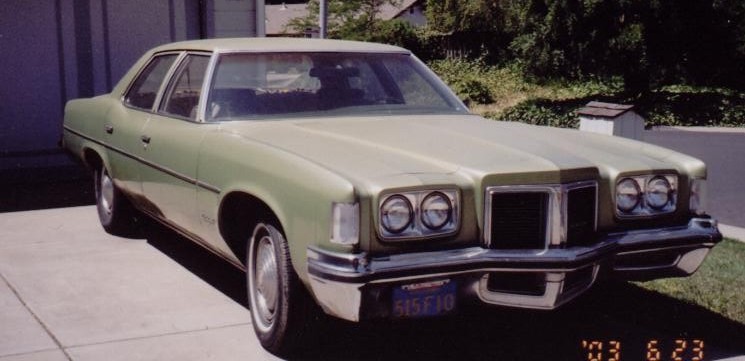 (mine was dark green. I think my folks had a thing about green cars for a while)

While I was in college, I borrowed this car from my parents (again, dad had bought a new car and couldn't get what he wanted for the old one, so he kept it) for a while. It was HUGE, a BOAT. It had a 400 cubic inch engine with a 4 barrel carb and there was still so much room under the hood you could sit on the wheel well under the hood while you were working on it (back in the days when you had to - and could - tune it up. Anyone remember how to gap plugs or replace the points in a distributor?) From our years living in Biloxi the salt air rusted out the back end so much it was more fiberglass than metal. It would FLY. You pressed the accelerator and it would sit down and go. You could sit 6 people in it comfortably. It was also an excellent date car, the front seat was a bench seat and it had a roomy back seat. (I still remember the tap-tap of a policeman's flashlight on the window and frantic buttoning of buttons....). My best friend in high school and I went on a lot of double dates in that car. It also drank gas like it just traversed a desert. I didn't use it much in college, I couldn't afford it.

1974 VW Goldbug:


(not the best view, but I think everyone knows what a beetle looks like. I picked this image because it is the exact one I had)

This is the first car I ever bought. It was 1982 and I was living in Atlanta going to Georgia Tech and my only transportation was a bicycle. Not so good for downtown. I had been looking for a car to buy and only had $2400 to spend. I was renting a house from the Dean of Admissions - who, while reviewing my transfer application asked if I had somewhere to live and just happened to have a room free in a house he owned. When I mentioned I was looking for a car, he mentioned that he also had a '66 mustang for sale. He had bought it for his daughter who didn't want some old car. It even had factory air. The only problem from my point of view was he was asking $2400 for it (what a coincidence!) and I wouldn't have any money left over for insurance. I kick myself once in a while for not buying that car, but at the time I wasn't enamored enough of mustangs to find the extra money. In any case, I loved my goldbug. It had a 1600 cc engine and zipped in and out of traffic. The sunroof was great - unless you didn't close it snug. If you didn't, when it rained it would gather water in the roof behind the sunroof, so when you next opened it and were driving around, the first time you stopped, you'd get a lap full of water. My roommate and I drove that car to Niagara Falls to visit his girlfriend. I parked it in my parents driveway when I joined the air force. When Laura and I married and then our first child was on the way, I asked dad to sell it as it wasn't the best family car. I still miss that car.

1969 VW Bus: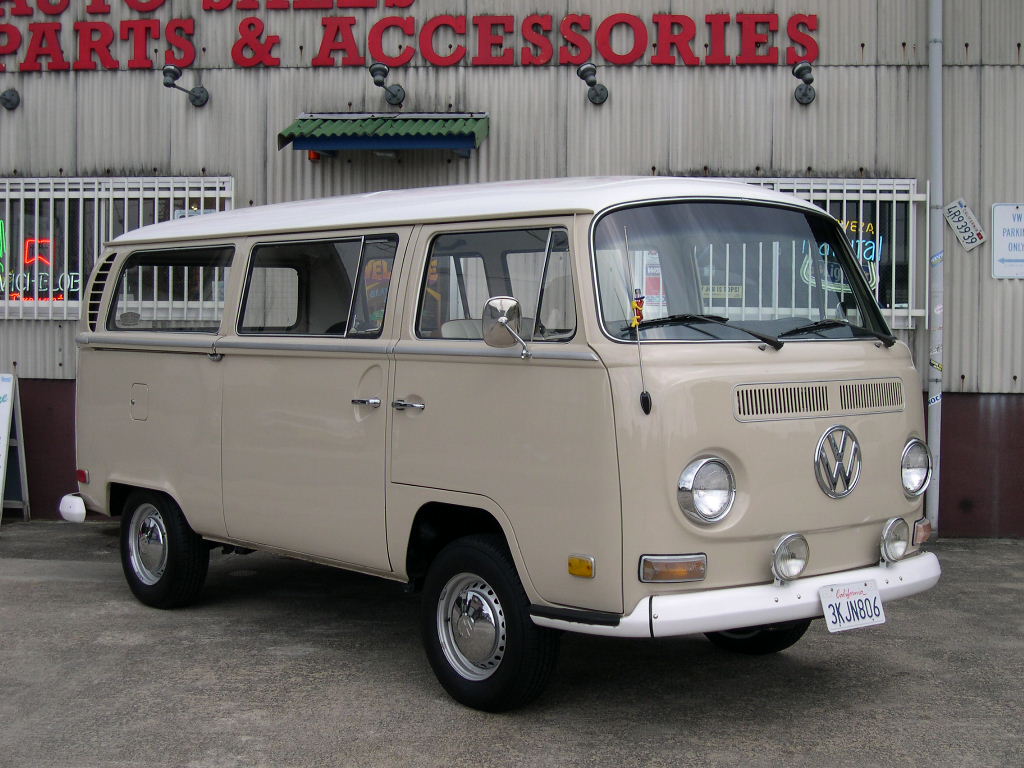 (Mine was Orange - body - and white - pillars and roof)

Laura and I had moved to Texas for my Air Force tech school. We didn't own a car. I asked one of my instructors, who had returned from Crete not long before, what did he recommend that would be easy to get parts and get fixed there. He said there were a good many VWs there. We went through the classified ads and found this for sale. It cost $600. I was familiar with VW engines - something I could fix if it broke - and this would have plenty of room for our growing family. So I bought a book (that I still have, with oil smears on many of the pages. check it out. It didn't have pictures. the hand-drawn illustrations are awesome) and bought my first tools (craftsman, of course)). Laura didn't know how to drive a manual transmission, so I taught her on the bus figuring if she could learn how on it, she'd be able to drive any stickshift anywhere. Anyway, I finished tech school and we had 30 days until we had to get on the plane to fly overseas. We drove that bus from Texas (in August - oh. my. god. driving a car with no air conditioning, a pregnant wife and 100 degree temps was........ an experience) to Kansas City to visit Laura's family. On the way, the starter stopped working. The van would run, just not start. The first time we discovered this, we had stopped for gas. So we had to push-start it, and there wasn't anyone to help. There was a rise in the road just ahead for some railroad tracks. I explained to Laura the procedure (put it in 2nd gear and when I holler, let out the clutch). So, I pushed the van up the slope to the tracks. I didn't think I was going to make it. I am about to give out when it finally crests the hill and it starts rolling down the other side. It gets up some speed and I holler to dump the clutch. The car chugs.......to a stop. I run to catch up and can't figure out why it didn't start when I see that Laura didn't have the key turned on. We were having a....discussion.....about this when our savior arrived. This guy offered to push our car with his. Back on our way, we finished the trip to KC by parking on slopes or not turning it off. (As it turned out, the problem wasn't with the starter, it was with a loose battery connection.) After our visit, we headed off to Georgia to visit my family - with no further incident. We left there after a week to drive to New Jersey, where it was put on a boat to be shipped to Crete. We took the middle seat out and put the kids' car seats in the back. Whenever they wouldn't go to sleep, we would load them up back there and they would be asleep in 10 minutes. We drove that bus all over Crete. We would drive into the mountains and find an overlook and park, open the side door and picnic in the van, with views of the valley just out the door. We brought the van back to the states with us, where it finally died. It blew a cylinder and we decided that it was time to move on. I loved that bus, I have a picture of it in my office:


(not that you can tell, but I am in the driver's seat. This was taken on Crete in a mountain pass coming back from Agios Nikolaus).

1988 VW Jetta:



This was the first new car we had ever bought (or since, for that matter). It had a 1.8 liter, fuel injected engine with a 5 speed manual transmission and was a blast to drive. When the '69 bus died, for a series of reasons we decided that it was time to look at new cars. We had narrowed our choices down to either a Jetta or a Honda Civic. After driving around town and having extremely BAD car dealership experiences I learned of a program our credit union offered. You applied for a car loan. You told them what kind of car you wanted (color, make, model, accessories) and they did the looking for you. No dealers, no @#$%# sales tactics. After two days, I was at work when I got a call - they had found a car that met our specifications. I walked from my office down to the front door (the credit union had offices in our building) and the car was just outside. I took it for a test drive. I went by the house and got Laura to drive it. We decided we wanted it. I drove back to work, told them I wanted it, I signed a piece of paper and it was ours. Best damned car buying experience I've ever had.

We had a 5 year loan on the car. So 4 years, 6 months later I paid the car off early. 3 weeks later we were driving down a country road late at night. It was dark, no moon. We rounded a curve and there was this huge dark shape in the road. It was a cow. I swerved around it, ran off the right side of the road, got back onto the road but overcorrected and ran off of the left side of the road and skidded in the ditch - until we got to a driveway and the ditch ended. The car completely flipped 360 degrees (over a mailbox) and we landed back on our wheels. The roof was crushed on one corner, glass was broken out of the rear and side windows, and no one was hurt (thank god for seat belts!). I was able to drive the car home. I called the county sheriff to report the accident and to let them know there was a cow loose on the road. The deputy sheriff showed up the next morning at the house and chewed me out for leaving the scene of the accident. (I wanted to ask how I was supposed to call from the accident site - this was before we had a cell phone - and was I supposed to wait for them there all night?) Anyway, I got a lecture about swerving to miss animals in the road (like I was supposed to hit a 1000 lb animal at 55 mph?) and a hastily written accident report. The insurance company totaled the car. I was upset - I was going to drive this car until it fell apart. It was in good shape, running well and only had 80,000 miles on it. Oh, well - we were on the search for yet another car.

1982 Volvo 240DL:



Having just paid off the Jetta, we weren't in a hurry for another car payment, so we shopped for a used car. Volvo's had a reputation for safety and reliability and the older ones were inexpensive (read, the insurance payout on the Jetta would cover it with some left over) so we bought it. Plus - I still had all of my tools from the VW beetle/bus years and Volvo's too are metric, so score! I bought a volvo book and this volvo for about $2000. (this isn't ours, but it's the same color and model as ours). It had a 1.8 liter fuel injected engine. It grew on us - ugly as it was. It was easy to work on, despite the fuel injection. It was our first automatic transmission. It rode very smoothly, very comfortable. We kept it running for 3, 4 years.

1986 Celica GT:



(Ours is white, with different wheels)

Sometime around 1996 Laura started working. At first, she worked swings so I would come home and she would take the car and leave for work. But we decided that we needed a second car. One of Laura's coworkers had a little white sporty car and one day Laura drove it home. It has a 2.0 liter fuel injected rocket of an engine and drives like a sports car. We've had it ever since - Laura and I take turns driving it. We paid $1000.

1983 Volvo 240DL:

(I won't repeat the picture, it looked just like the '82 above, except it was green)

About a year after we got the celica the volvo started acting up, so we decided to look for another car. (@1997) Since I had the tools, and a few spare parts, already - we looked for another volvo. This one had the same 1.8 liter fuel injected engine as the blue volvo, but was a 4 speed manual (with overdrive - electronically operated, a button on the shifter). We paid $1200 for it. We still had the blue volvo, I took turns driving both volvos. Laura had a coworker who had just left her husband. She didn't have a car, and she had a little boy to take care of. So Laura loaned her the blue volvo. Laura quit that job about a month later and we never did see the blue volvo again. We kept the green volvo for 3, 4 years.

1989 Volvo 760 turbo stationwagon:


(ours is blue, with different wheels)

In 1999 the green 240DL blew a head gasket and so - time for another car. We spent a few weeks looking when we ran across an add in the autotrader for this car. We drove up to look at it and test drove it. It has a 4 cylinder, turbocharged engine with an automatic transmission, leather seats, a sunroof, power windows, electronic climate control (set the temp and it did the rest), so for $1900 it was ours. Up until now, we had had good luck with our used car buys. They gave little trouble, so we didn't have to put much money into them - and I did my own mechanic-ing, and with a source of parts nearby (there's a place in atlanta that takes apart volvos and sells parts - you can get almost anything from them) I didn't have to spend hardly anything on them. Well.......this time we didn't do quite as well. This volvo has come to be known by us as the $800 car. Every time something goes wrong, we wind up spending $800 to fix it. The ignition switch wore out - $800 to replace it. The ECC (Electronic Climate Control) stops working - $800 to replace it. About once a year something would happen and we would have an $800 repair. But - we still have it. Right now, it is sitting in the driveway - needing an alternator.

1988 Jeep Cherokee Limited:



Christmas 2005 we went up to Kansas City to visit and sitting in Laura's dad's driveway was a red jeep. I was surprised to find out it belonged to her dad - he's in his 80's and it just didn't seem to be the kind of car he would drive. The story was that he had a friend who bought it from his daughter. He really didn't want it, it was a favor to his daughter. Well, he was looking to get rid of it and offered Laura's dad a deal. I still don't know why he took it, though. In March Laura's mom had her last stroke and went into home hospice. Laura flew up to take care of her mother full time and while there she wound up using the jeep to get around in. When Laura came home 3 months later, her dad gave her the jeep. We've had to spend a couple of grand fixing it, as it turned out the radiator needed replacing and soon afterward the fuel injectors, one by one, started leaking and had to be replaced.

As you can see, I HATE a car payment. I've had pretty good luck with all of the cars we've had. Our insurance (until the kids started driving) was pretty low - older cars have lower rates and we only get liability insurance, the cars aren't worth full coverage insurance. I have to admit that the older I get, the less I like crawling under a car to fix it. We just might wind up with a new car when one of these cars gives up the ghost. My goal is to get my daughter out of college and the loans paid before signing on the bottom line.

We've owned 8 cars (I don't count - and didn't list - the two cars we bought for the kids) in 25 years. So maybe, not so many after all.

How many cars have you owned? Got any good car stories?

How can I have forgotten this?

I left out one vehicle:

1971 VW bus:

(see picture of VW bus above, it is virtually the same and the color is almost identical to mine)

In 1992-3 I was spazzing for another VW and I ran across a want-ad for a '71 bus (before the mid-year model change - which caused me fits getting parts). An army sergeant was PCS'ing (moving) and had to get rid of one his cars. His wife mandated it was going to be the bus. Laura and I drove over to look and - bought it. I drove it for 2-3 years and - as is typical in VW engines - blew the #3 piston (the oil cooler sits on top of that cylinder causes it to continually run hot). It sat parked in the driveway for about 9 months when a neighbor must have complained because the police came by and told me they were going to cite me for expired tag & insurance. I just did not have the time to fix it (I was constantly traveling for work) so I sold the van to a local guy who works on VWs.

I haven't had a VW since. I am thinking about getting another!